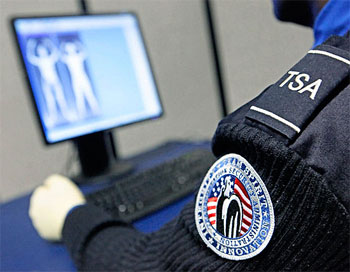 I had one of the most violative, unAmerican experiences while flying through Chicago on my way from London to California the other day. Although back on home turf, I felt like I had re-entered a country I didn't recognize by its lack of respect for basic rights.
I followed the bruhaha surrounding the introduction of the full body scanners, often called "naked body scanners" last Thanksgiving with interest, but the interest quickly turned to horror during my own interaction with the invasive TSA procedures.
Believing that it violated my Fourth Amendment right against illegal search and seizure, I opted out of the body scanners, which take pornographic, fully-naked images which are then viewed by TSA personnel and stored for who knows how long.
This subjected me to a pat-down, which I requested be done in private. Relaying the details of this experience would make me blush, but I'll simply say that had the TSA officer been a man or a lesbian woman, I or they would not have passed a temple recommend interview.
I was more than irate, claiming that not only my Fourth Amendment Rights, but also my First Amendment religious rights were being violated. After telling me to calm down, the officer added insult to injury in saying that I signed away those rights in flying in America. I told her that she could not feel good about what she was doing.
I felt very lost in my own country, and longed to be back in the inefficient yet more respectful security system of the British transportation system.